Temple
Pura is a term for a Hindu place of worship in Indonesia. Temples in Indonesia are mainly concentrated in Bali as an island that has a majority population of Hindus.
Destination :
Tanah Lot Temple
Uluwatu Temple
Ulun Danu Beratan Temple
Tirta Empul Temple
Taman Ayun Temple
Goa Gajah Temple
Taman Saraswati Temple
Goa Lawah Temple
Gunung Kawi Temple
Besakih Temple
Lempuyang Temple
Tanah Lot Temple
Tanah Lot Temple is one of Bali's most important landmarks, famed for its unique offshore setting and sunset backdrops. An ancient Hindu shrine perched on top of an outcrop amidst constantly crashing waves; Tanah Lot Temple is simply among Bali's not-to-be-missed icons.
Uluwatu Temple
Uluwatu Temple, or Pura Luhur Uluwatu, one of six key temples believed to be Bali's spiritual pillars, is renowned for its magnificent location, perched on top of a steep cliff approximately 70 metres above sea level. This temple also shares the splendid sunset backdrops as that of Tanah Lot Temple, another important sea temple located in the island's western shores.
Ulun Danu Beratan Temple
The Ulun Danu Beratan Temple is both a famous picturesque landmark and a significant temple complex located on the western side of the Beratan Lake in Bedugul, central Bali. The whole Bedugul area is actually a favorite cool upland weekend and holiday retreat for locals and island visitors alike from the southern and urban areas, as it is strategically located, connecting the island's north and south.
Tirta Empul Temple
Tirta Empul, meaning 'holy water spring' is actually the name of a water source located within the temple. The spring feeds various purification baths, pools and fish ponds surrounding the outer perimeter, which all flow to the Tukad Pakerisan River. Various sites throughout the region and many other archaeological relics relate to local myths and legends.
Taman Ayun Temple
The Taman Ayun Temple was to serve as a main site of worship among the Mengwi people who need not travel too far to the main large temples, the likes of the Besakih 'mother temple' in Karangasem, Batukaru Temple in Tabanan, or Batur Temple in Kintamani. It also served as a unifying symbol among the Mengwi royalty and the people.
Goa Gajah Temple
Goa Gajah dates back to the 11th century, built as a spiritual place for meditation. The main grounds are down a flight of steps from the roadside and parking area, which is lined with various art and souvenir shops and refreshment kiosks. Upon reaching the base you will come across a large 'wantilan' meeting hall and an assortment of large old stone carvings, some restored to their former full glory. The pool, excavated in 1954, features five out of supposedly seven statues depicting Hindu angels holding vases that act as waterspouts.
Taman Saraswati Temple
The Pura Taman Saraswati is a beautiful water temple in central Ubud, accessible from the Jalan Kajeng side street off the main road of Jalan Raya Ubud, just behind Café Lotus. The temple is a great stopover along your leisure walks through Ubud town, offering sightseeing and photo opportunities with its classical Balinese temple architecture and a beautiful foyer featuring ponds filled with blooming pink lotuses.
Goa Lawah Temple
The Goa Lawah Temple is a large complex on the north side of the Jalan Raya Goa Lawah main road. It is a stopover for holidaying locals who come in with offerings and do short prayers before continuing with their journey. For general visitors, it is an included itinerary on temple tours for photo opportunities together with refreshment breaks at the kiosks across the road on Goa Lawah Beach. You can see the outline of Nusa Penida Island on the horizon from here.
Gunung Kawi Temple
Gunung Kawi Temple complex, locally referred to as Pura Gunung Kawi, is one of Bali's most unique archaeological sites, comprising a collection of ancient shrine reliefs carved into the face of a rock cliff. The main site overlooks the sacred Pakerisan River, which also flows by the Tirta Empul Temple a kilometre up north. Across the river from the ancient reliefs is a temple courtyard featuring old Hindu shrines in a more contemporary architectural style, which is attended by pilgrims especially during its 'piodalan' temple anniversaries.
Besakih Temple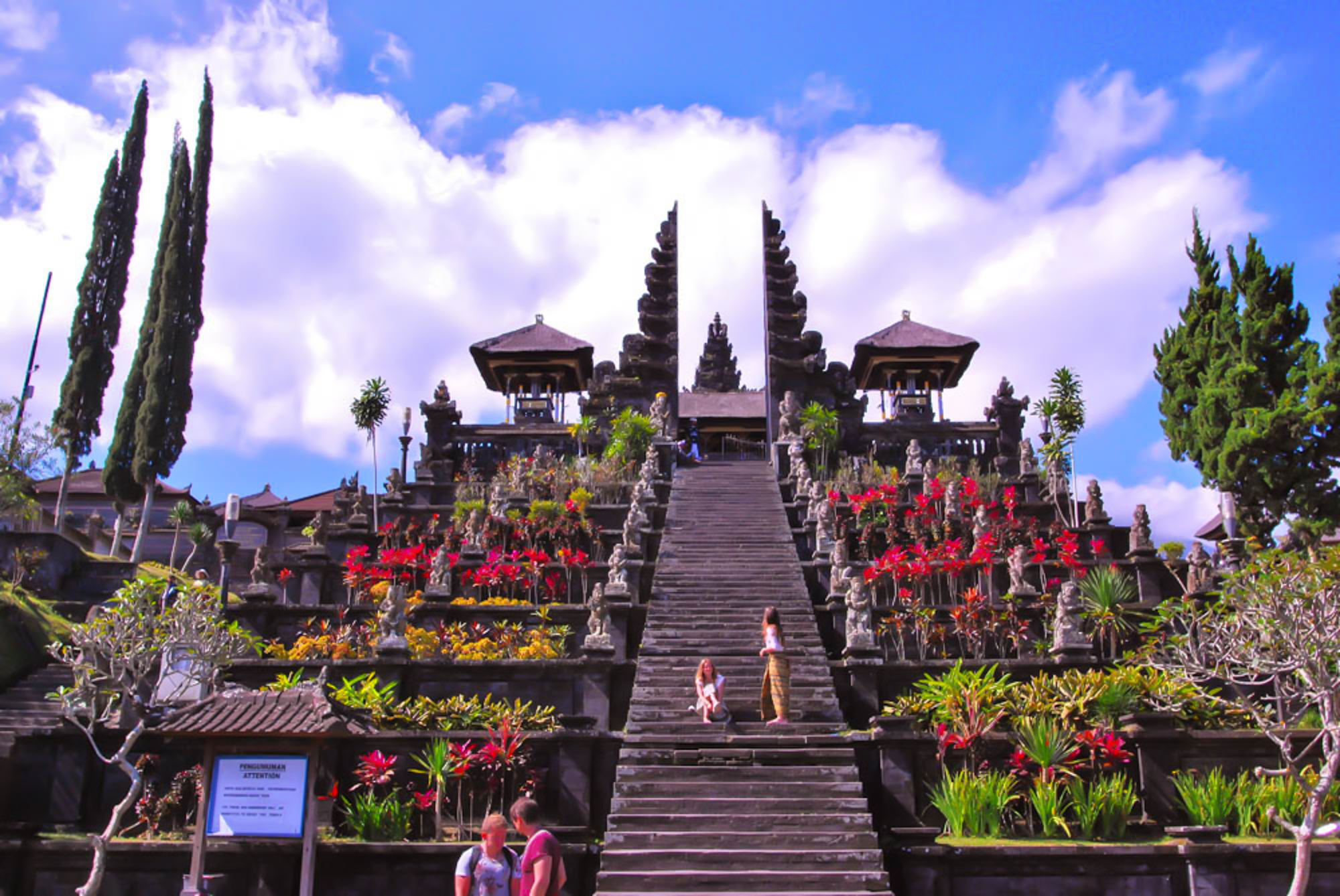 Besakih Temple, known as Bali's 'Mother Temple' for over 1,000 years, sits 1,000 metres high on the southwestern slopes of Mount Agung. Besakih is an artistic and unique complex that comprises at least 86 temples which include the main Pura Penataran Agung (the Great Temple of State) and 18 others. Besakih is the biggest and holiest of the island's temples and is surrounded by breathtaking and scenic rice paddies, hills, mountains, streams, and more.
Lempuyang Temple
Lempuyang Temple, locally referred to as Pura Lempuyang Luhur, is one of Bali's oldest and most highly regarded temples, on par with Besakih (aka the 'mother temple' of Bali). It is also believed to predate the majority of Hindu temples on the island. Definitely a highlight on any travel itinerary for the fit and adventurous, the main temple lies at 1,175m above sea level, up on the peak of the namesake Mount Lempuyang in East Bali.