Home » Half Day Tour » Bali Romantic Tour
Bali Romantic Tour
About Trip
This tour offers you a romance journey by accompanying you to the beautiful places in Bali. We will start our tour at 01.00 PM and drive you to Padang – padang beach, one of Bali's most famous surf spot. After that, we will visit Bluepoint Beach and relax in Single fin, a relaxed café with the best view in Bali. Our next stops is Uluwatu temple, a Balinese sea temple and enjoy Balinese kecak fire dance performance in every sunset time. Them, you will have a sweet romantic dinner at Jimbaran Bay, where the best grilled seafood in Bali is served.
Itinerary :
13.00pm – hotel

13.30 – 14.30 Padang padang beach

15.00 – 16.00 Bluepoint beach

16.30 – 17.00 Uluwatu temple

17.30 – 18.00 Jimbaran bay

20.30pm – hotel
Padang padang beach
Padang Padang Beach, locally referred to as Pantai Labuan Sait, is one of Bali's most famous surf spots, located on the north-western coast of the island's Bukit Peninsula, and just a kilometre southwest of the Anantara Bali Uluwatu. This beach features an exotic setting; a simply stunning one hundred meter-long stretch of sand that is accessible down a flight of stairs through a unique hollow rock entrance. The surf has a steady set of barrels during good weather, attracting wave riders from around the world.



Bluepoint beach
Bali not stop offers the interesting places to visit. One of the best beaches attraction worth to explore is Blue Point Beach. The beach is full of foreign tourist from the worldwide, such as Australia, Italy, Canada, and much more. Blue Point Beach is the paradise surfing spot for the surfers. With the big waves are large, breaking the silence around the beach. Because the sea waves on the shore is quite challenging. If the weather in sunny, almost every day there are surfers who try the waves at this beach, both who are professionals or beginners.
Not only offers a very challenging ocean waves, Suluban also offering the beauty of beach with white sand that truly captivating surrounded by towering rock. Because of surrounded by cliffs, visitors who want to enjoy the beauty beaches should enter the gaps are narrow cliff which in bali interpreted as "mesulub". Because visitors to reach the beach should be "mesulub" so this beach called Suluban Beach. The locals also called Suluban Uluwatu by this name because is not far from Uluwatu attraction site which has been known for the attractiveness. Foreign tourists are more familiar by the name of Blue Point Beach because it is not far from the beach there is a hotel named Blue Point.
Uluwatu temple
Uluwatu Temple, or Pura Luhur Uluwatu, one of six key temples believed to be Bali's spiritual pillars, is renowned for its magnificent location, perched on top of a steep cliff approximately 70 metres above sea level. This temple also shares the splendid sunset backdrops as that of Tanah Lot Temple, another important sea temple located in the island's western shores. Pura Luhur Uluwatu is definitely one of the top places on the island to go to for sunset delights, with direct views overlooking the beautiful Indian Ocean and daily Kecak dance performances. Balinese architecture, traditionally-designed gateways, and ancient sculptures add to Uluwatu Temple's appeal.
Jimbaran bay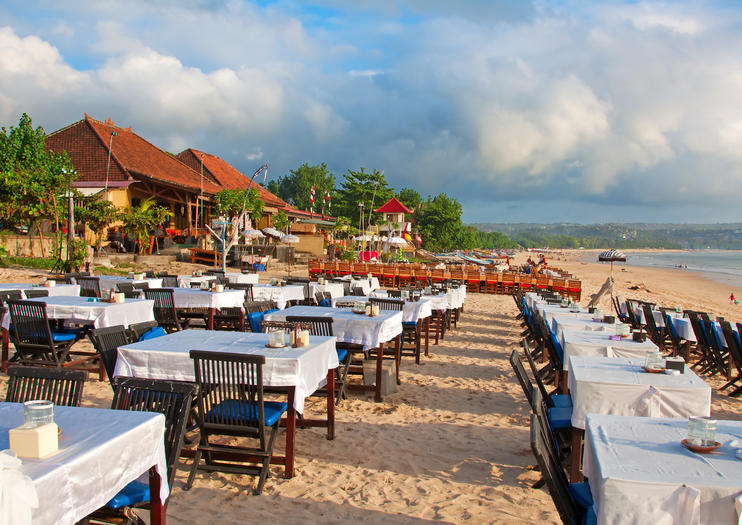 Jimbaran beach and the famous Jimbaran Bay are on Bali's southwestern coast. The beach is part of the narrow isthmus connecting the Bali mainland and the Bukit Peninsula. The beach and the bay of Jimbaran offers small secluded areas. The tranquility and peace you can find here can be a perfect antidote to a stressful world. The land gently slopes away from the beach revealing exclusive celebrity haunts. Some are hidden under a canopy of leafy coconut palm groves. Jimbaran Beach is also known as the home of luxury hotels. These include the likes of the Four Seasons Resort at Jimbaran Bay and the InterContinental Bali Resort & Spa. Find out about all the great Jimbaran hotels, dining spots, attractions and nightlife right here.



Regular Tours Price :
IDR. 500.000/car ( 1 till 6 person included)
IDR. 800.000/minibus ( 1 till 12 person included)
IDR. 1.000.000/minibus ( 1 till 17 person included)

Inclusion : Private Car / Minibus / Bus + Petrol + English Speaking Driver
Note : Entrance fee and Dinner is not include in the price
Or
Inclusive Tours Price :
IDR. 800.000/person

Note : For Inclusive Price is minimun Booking 2 Person
Inclusion : Private Car / Minibus / Bus + Petrol + English Speaking Driver + Entrance Fee + Seafood Dinner Package at Jimbaran + Mineral Water
Area Covered for Pick Up :Seminyak, Legian, Kuta, Nusa Dua, Jimbaran, Sanur, Ubud, Denpasar, Benoa Harbour, Airport Please contact us for pick up in different area
Booking Form
Tripadvisor
Most Recommended Activities
Contact Us ?

Booking Now!
Get Bali Tour Packages Prices at affordable rates. Our company Love, Explore & Chill provide the best facilities for Bali Tour passengers. Enjoy fun travel services from Love, Explore & Chill.